Ссылки с тэгом "шаблоны"
Hey, Game Developer!
Do you struggle to make your code hang together into a cohesive whole?
Find it harder to make changes as your codebase grows?
Feel like your game is a giant hairball where everything is intertwined with everything else?
Wonder if and how design patterns apply to games?
Hear things like "cache coherency" and "object pools", but don't know how to use them to make your game faster?
I'm here to help! I wrote this book to answer those questions. It's a collection of patterns I found in games to make code cleaner, easier to understand, and faster.
Читать полностью
Теги: программирование, уроки, шаблоны, шпаргалки,
Отличный javascript-фреймворк (основанный на jQuery), позволяющий создавать потрясающие пользовательские интерфейсы для ваших вэб- и мобильных приложений.
Читать полностью
Теги: ajax, html, javascript, jquery, mobile, opera, броузеры, верстка, дизайн, фрэймворки, халява, шаблоны,
The devices and browsers are increasing day by day that need to work with your website. It's not enought to just have a mobile version and a browser version and we really can't create each version for iPad, iPhone, Android mobiles, tablets, television, netbooks, desktops with high and low resolution screens. Our website design should not only be more flexible, but more adaptive to the media that renders them.
Designers should create designs that adjust to the needs of each browswer, regardless of the device. The time is to think how we can make web design process which work for decade and it's possible only with Responsive Web Design. Lets take a look in key feature element of Responsive Web Design.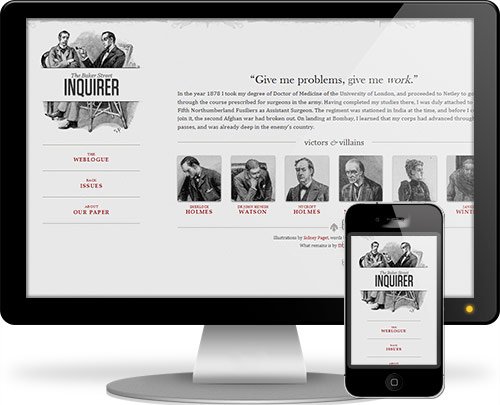 Читать полностью
Теги: android, css, html, mobile, верстка, дизайн, креатив, уроки, шаблоны,
Today I'm going to take you through my entire process of getting from Photoshop to completed HTML. We're going to build out a set of 4 PSD mockups of a website that eventually will become a WordPress theme. It's a massive tutorial, so if you're going to follow through to the end, make sure you have a few hours to spare!
Читать полностью
Теги: css, html, photoshop, верстка, уроки, шаблоны,
Most of the premium themes and many free ones come with typography options these days. This means that the end user is allowed to customize their theme by picking a different font in their theme options. Not only does this give more freedom to the end user, but if done correctly, it gives freedom to child theme developers to extend that given list to include any other fonts, which means that you, as the parent theme developer, shouldn't even bother shipping your theme with over 200 web fonts available from Google.
Today we're going to look at one of the many different approaches to providing typography options to the end user and child theme developers. We'll be using Google Web Fonts as our primary web fonts provider and we'll also look at how WordPress filters and actions can help you provide an interface to child theme developers, so they can easily hook and modify your list.
Читать полностью
Теги: cms, css, html, php, wordpress, верстка, уроки, шаблоны,
The great thing about jQuery is that talented jQuery developers often release new and useful plugins on a regular basis. jQuery plugins are not only easy to implement, but easy to maintain even when used throughout large sites.
In this article, we share with you a list of 20 useful jQuery plugins that were released recently that could help you for your next web project. There are various types of plugins here such as modal windows, image galleries, auto complete for form input, bookmarking functions, preloaders, and more. Enjoy!
Читать полностью
Теги: ajax, javascript, jquery, броузеры, верстка, дизайн, креатив, программирование, уроки, халява, шаблоны,
There comes a time in every web designer's life, when you're trying to center an HTML element and it's failing miserably. You're ready to pull the plug on CSS, revert back to tables, and use deprecated tags and attributes like: <center>, align, and valign. In this tutorial we're going to shed some light on the subject, and hopefully help demystify the process of centering HTML elements using CSS.
Читать полностью
Теги: css, html, броузеры, верстка, дизайн, уроки, шаблоны,
WordPress is the most popular blogging and CMS platform out there. The vast amount of features and the flexibility it provides, one can create mind blowing themes for it. Here is a round up list of the most stunning WordPress themes, created specifically for displaying your design portfolio.
Читать полностью
Теги: cms, wordpress, дизайн, шаблоны,
It's interesting to look back at our previous WordPress themes round-ups. It's almost like looking at a visual timeline not only of WordPress' advances in theme design, but of the rapid development in functionality of the CMS itself. The themes from year to year clearly differ in style as Web design trends have evolved. As each year passes and more functionality is added to WordPress' core, these improvements are strongly reflected in the themes developed for it.
Once upon a time, all WordPress themes looked like traditional blogs, with basic functionality and not a heck of a lot more. But as you will see from the themes below, that original "blog" design style is clearly gone, perhaps never to be seen again. It makes you feel nostalgic.
Читать полностью
Теги: cms, wordpress, дизайн, шаблоны,
Более 6000 превосходных бесплатных шаблонов профессионального уровня для ваших сайтов.




Читать полностью
Теги: дизайн, халява, шаблоны,