Главная
» Ссылки с тэгом "программирование" - страница 3
Ссылки с тэгом "программирование" - страница 3
wdCalendar is a javascript event calendar. Simply to say, this jquery plugin is google calendar clone, which is similar to desktop calendar applications such as Microsoft Outlook or iCal on Mac OS X. It's easy for users to view, add, and drag-and-drop events from one date to another. It supports view modes such as daily, weekly, monthly. It is very powerful yet easy to use & integrate with php, asp.net, jsp and RoR.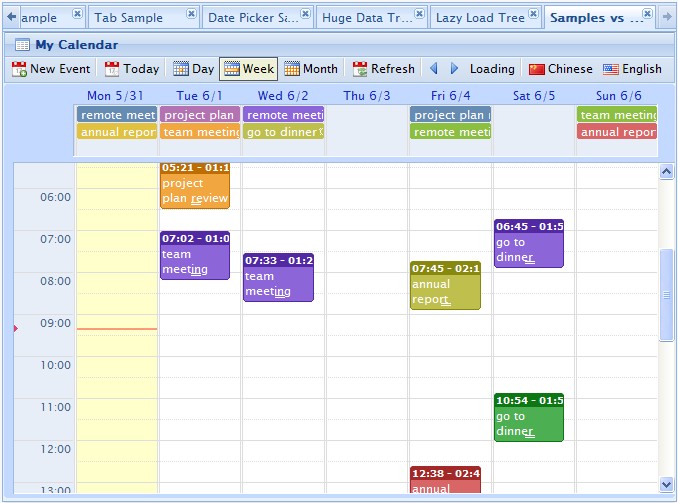 wdCalendar AJAX Calendar Features
Build on the most popular javascript library, Jquery. Implemented as a jQuery plugin.
Day/week/month/yearly view provided with shared events.
Create/update/remove events by drag & drop.
Driven by AJAX, aasy to add appointment location/attendee/host/etc without web page refresh.
Users can "quick add" calendar events by typing "Dating with Chile", for example.
Easy way to integrate with database.
All day event/more days/cross-day events provided.
Works in IE, Firefox, Safari, Opera & Chrome
Integrates with any back-end technology, zend framework, cakephp, codeigniter
Open source (GPL v3) / MIT , same as jQuery
Читать полностью
Теги: ajax, css, html, javascript, jquery, верстка, дизайн, программирование, уроки,
Top Features
Create, edit and publish PHP, Ruby, Python, Perl, Java, HTML, CSS and JavaScript
Access and publish files through FTP/SFTP and Dropbox
Autocomplete
Realtime syntax debugging
Step back in time with revision history
Code folding, snippets, jump-to-line, bracket closing
All from the comfort of your web browsers!
Читать полностью
Теги: css, dropbox, html, ide, php, программирование, сервисы, утилиты,
As you begin to build a build of a subscriber, it may become desirable to start displaying your follower numbers from several avenues, such as your Twitter followers, Facebook fans or your RSS subscribers. It lends some credibility to your site, showing that you've already built a decent reader base.
I decided that it was about time that I did this on Do It With WordPress, for the experience (and this tutorial) if nothing else. It actually wasn't as easy to come up with this information as I had hoped, so I ended up largely crafting these snippets myself to get it just the way I wanted.
Читать полностью
Теги: cms, php, wordpress, дизайн, программирование, сервисы, уроки,
Project providing a set of classes for the PHP programming language, which allow you to write to and read from different file formats, like Excel 2007, PDF, HTML, ... This project is built around Microsoft's OpenXML standard and PHP. Checkout the Features this class set provides, such as setting spreadsheet meta data (author, title, description, ...), multiple worksheets, different fonts and font styles, cell borders, fills, gradients, adding images to your spreadsheet, calculating formulas, converting between file types and much, much more!
PHPExcel currently features:
Create an in-memory spreadsheet representation
Set spreadsheet meta data (author, title, description, ...)
Add worksheets to spreadsheet
Add data and formulas to individual cells
Merge cells
Protect ranges of cells with a password
Supports setting cell width and height
Supports different fonts and font styles
Supports formatting, styles, cell borders, fills, gradients, ...
Supports hyperlinks
Supports different data types for individual cells
Supports cell text wrapping
Supports conditional formatting
Supports column auto-sizing
Supports rich-text strings
Supports autofilter
Supports "freezing" cell panes
Supports cell-level security
Supports workbook-level security
Supports worksheet-level protection
Group rows/columns
Cell data validation
Insert/remove rows/columns
Named ranges
Worksheet references
Calculate formula values
Add comments to a cell
Add images to your spreadsheet
Set image styles

Positioning
Rotation
Shadow

Set printing options

Header
Footer
Page margins
Paper size
Orientation
Row and column breaks
Repeat rows at header / columns at left
Print area

Output your spreadsheet object to different file formats

Excel 2007 (spreadsheetML)
BIFF8 (Excel 97 and higher)
PHPExcel Serialized Spreadsheet
CSV (Comma Separated Values)
HTML
PDF

Read different file formats into your spreadsheet object

Excel 2007 (spreadsheetML)
BIFF5 (Excel 5.0 / Excel 95), BIFF8 (Excel 97 and higher)
PHPExcel Serialized Spreadsheet
Excel 2003 XML format
Open Office Calc (.ods)
Gnumeric
Symbolic Link (SYLK)
CSV (Comma Separated Values)

... and lots of other things!
Читать полностью
Теги: php, программирование, халява,
Almost a year ago I had the idea to build a calendar app. The project was called LiveCal and was supposed to become a platform where you could share calendars. The whole idea was that calendars would become something you subscribe to. Let me clarify. Let's say you are subscribed to the calendar stream of your school. One of your teachers plans an event, such as a task or a test and adds it to the calendar stream. From the moment the event is added to the stream, you'll get a instant notification that a new event is being planned. This means you'll always walk around with an updated calendar. Due to the complexity of the idea and the lack of knowledge on my side this project never really took off.
Nevertheless I started to make a CSS3 calendar with some jQuery animation while I was working on this project. In this article I will explain, step by step, how to use the calendar.
Читать полностью
Теги: css, javascript, jquery, дизайн, программирование, утилиты, халява,
Most people know that testing your websites is a good idea, but after some time testing can become tedious. What if a lot of this testing process could be automated so you don't have to go trough every function manually, time after time, to ensure that it still works after updating your code? This is where unit testing comes in, to automate the testing process.
Unit testing makes it easier, and above all safer, to modify your code because it catches any irregularities in the behavior (i.e. bugs) that may be introduced with the new code. In this article you will learn the absolute basics of unit testing with PHPUnit and how easy it is to get started using it as I guide you trough the process of writing your first test.
Before you can start writing your first unit test, you need to have PHPUnit installed. It can easily be installed using the PEAR installer, and the process is documented in PHPUnit's online manual at www.phpunit.de/manual/current/en/installation.html.
Читать полностью
Теги: php, программирование, уроки,
If there is one bad thing about jQuery, it's that the entry level is so amazingly low, that it tends to attract those who haven't an ounce of JavaScript knowledge. Now, on one hand, this is fantastic. However, on the flip side, it also results in a smattering of, quite frankly, disgustingly bad code (some of which I wrote myself!).
But that's okay; frighteningly poor code that would even make your grandmother gasp is a rite of passage. The key is to climb over the hill, and that's what we'll discuss in today's tutorial.
Читать полностью
Теги: javascript, jquery, броузеры, программирование, уроки,
Everybody knows that if you want more traffic on your website, want to stay on top of future trends of search, want to have the best and most beautiful or professional looking website then jQuery is the solution. So why waste time on this.
Few months back we posted jQuery social media plugins, but that is not the limit. jQuery release new plugins everyday and skimming through this sea of new plugims is NOT an easy task. Every other plugin catches our eye and we want to use it in our website, but you can not use all of these plugins and you get confuse which one to pick. So for this reason today I have compiled a list of Fresh jQuery plugins today…..take a look!
Читать полностью
Теги: javascript, jquery, программирование, ссылки, уроки,
Behind almost every successful web application, there is an easy-to-use & feature-rich API as they simply help the main application to spread into others & reached by more users. Also, an API-enabled application can be easily developed further using the API itself.
In order to create an API for your web application, here are 10 tutorials to get you started. But before that, you may want to checkout the video: How To Design A Good API and Why it Matters by Google.
Читать полностью
Теги: api, php, программирование, ссылки, уроки,
The power of CSS3 is enormous and in this tutorial we will see how to exploit it in a very creative way. We are going to create some thumbnail hover effects with CSS3 transitions. On hover over a thumbnail, we will reveal some description of the thumbnail, using a different style in each example.
Читать полностью
Теги: css, верстка, дизайн, креатив, программирование,