Ссылки с тэгом "ajax"
Google calendar is a very useful calendar service. It is easy for web programmers to interact with this calendar. You can use simple techniques like embedding calendars on your site. You can also interact on an entirely different level by using PHP and the google API's. Zend Framework provides a good place for the beginning and advanced PHP programmer to make this connection.
Читать полностью
Теги: ajax, api, faq, php, документация, программирование, сервисы, уроки, фрэймворки, шпаргалки,
Отличный javascript-фреймворк (основанный на jQuery), позволяющий создавать потрясающие пользовательские интерфейсы для ваших вэб- и мобильных приложений.
Читать полностью
Теги: ajax, html, javascript, jquery, mobile, opera, броузеры, верстка, дизайн, фрэймворки, халява, шаблоны,
As your website grows, it is no longer practical to display all the data at once on the same page. Moreover, the end user will probably be interested with only part of the content. Also, loading all the content at once might increase the server load or simply a waste of bandwidth. This is where pagination comes into play.
First, I am not too sure how you should call this thing that you are going to learn about but its goal is similar to a usual pagination, That is, to display partial content and to save bandwidth! This article is about how to create a similar stuff to twitter and Facebook's way of displaying data.
Читать полностью
Теги: ajax, css, html, javascript, jquery, php, программирование, уроки,
wdCalendar is a javascript event calendar. Simply to say, this jquery plugin is google calendar clone, which is similar to desktop calendar applications such as Microsoft Outlook or iCal on Mac OS X. It's easy for users to view, add, and drag-and-drop events from one date to another. It supports view modes such as daily, weekly, monthly. It is very powerful yet easy to use & integrate with php, asp.net, jsp and RoR.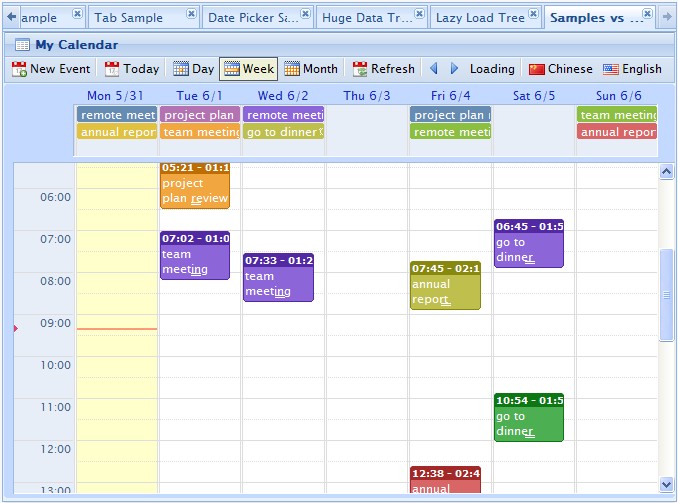 wdCalendar AJAX Calendar Features
Build on the most popular javascript library, Jquery. Implemented as a jQuery plugin.
Day/week/month/yearly view provided with shared events.
Create/update/remove events by drag & drop.
Driven by AJAX, aasy to add appointment location/attendee/host/etc without web page refresh.
Users can "quick add" calendar events by typing "Dating with Chile", for example.
Easy way to integrate with database.
All day event/more days/cross-day events provided.
Works in IE, Firefox, Safari, Opera & Chrome
Integrates with any back-end technology, zend framework, cakephp, codeigniter
Open source (GPL v3) / MIT , same as jQuery
Читать полностью
Теги: ajax, css, html, javascript, jquery, верстка, дизайн, программирование, уроки,
PHP and Web Development are perfectly married but Ajax interactions have always been difficult to debug. Applications like Firebug are extremely useful to deploy, debug, and generally for Web Applications development. These kind of softwares are still running via browser but both JavaScript and PHP require hard test, being dynamic programming languages, as dynamic is an Ajax interaction. There are several ways to debug Ajax calls but honestly I have never found one able to be integrated without effort and easy to manage directly via JavaScript and/or Firebog or whatever console is there...
This is the reason I have created a single, well tested, widely compatible and fast Error Debugger, where all we need to do is to require_once this single file for each Ajax called page. Everything else will become so natural that you will ask yourself why on earth nobody created such simple solution before. Most advanced PHP frameworks integrate an error manager able to make deploy and debug easier. Unofrtunately, too often these frameworks are not that simple to configure or are not scalable enough, even if what we are trying to do is extremely simple. For these cases and every other, Formaldehyde could be integrated without effort, at all! To better understand how Formaldehyde will change our daily WTF during Ajax interactions, words cannot compete with code and images.
Читать полностью
Теги: ajax, firebug, javascript, php, программирование, утилиты,
The great thing about jQuery is that talented jQuery developers often release new and useful plugins on a regular basis. jQuery plugins are not only easy to implement, but easy to maintain even when used throughout large sites.
In this article, we share with you a list of 20 useful jQuery plugins that were released recently that could help you for your next web project. There are various types of plugins here such as modal windows, image galleries, auto complete for form input, bookmarking functions, preloaders, and more. Enjoy!
Читать полностью
Теги: ajax, javascript, jquery, броузеры, верстка, дизайн, креатив, программирование, уроки, халява, шаблоны,
Этот набор уроков содержит по нескольку вариантов создания с помощью jQuery типовых элементов любого современного сайта, таких как различные меню, галереи изображений, всплывающие подсказки, дочерние окна, слайдеры контента, использование технологии AJAX и т.д.
Сборник окажется очень полезным как для новичков, изучающих jQuery, так и для профи.
Читать полностью
Теги: ajax, javascript, jquery, броузеры, верстка, программирование, уроки, халява, шпаргалки,
In this tutorial I will show you how to make a simple live search using PHP and AJAX similar to the one used on this site and Google.
You have probably seen on the Google homepage, that when you start typing, Google suggests results that have previously been searched for. A simple version of this can be achieved using PHP and AJAX, and I will show you how to use this in a simple search form on a news page.
Читать полностью
Теги: ajax, javascript, php, уроки,